By Alice Bragg
I'm in the flat of Mark Ellison Jr in Willesden Green, London. It's Sunday morning and Mark has brewed an enormous cafetiere of coffee. Mark is from Athens, Georgia, USA. He pours me a cup and, in his neat Southern drawl, asks
"So we're going to change the world through making films on mobile phones?'
"That's right" I answer.
"Cool" he passes me the cup.
Mark and I have just finished studying Middle East politics together at SOAS, University of London. During that time I'd written a dissertation on using theatre as a political tool and made Palestine and Israel my case-study. While researching in Palestine, I'd met Nidal.
"You will never make a film on a mobile phone!" Nidal declares, as we sit on the front porch of his family house in Bethlehem. He takes a long pull on the shisha pipe and passes it to me.
But you can shoot video using the camera on a mobile phone
"But you can shoot video using the camera on a mobile phone" I point out, as I raise the pipe to my lips, "and you can transfer the files out of the phone and onto a computer" I add "so logically you should be able to edit those files too, right?"
"Aleeece! The files will not go into the editing software!" Nidal's Mediterranean heat momentarily boils over, a flash in a pan.
There's a pause while he re-arranges the coals suspended on aluminum foil above the apple tobacco. I'm not giving up
"But you could convert the files so they could be used in the editing software, couldn't you…?"
Nidal thinks, tucks the rubber pipe under his elbow as he crosses his arms with the tip in his mouth. He exhales, reflective.
"Yes…" his baritone voice with its heavy Arab accent speaks slowly "you can…"
"So let's do it – " I duck in "- with some free conversion software. You can find it"
"Bring me my labtob!" Nidal commands, determination eclipsing defeat.
I bring it. He positions the shisha pipe beside him and the search begins.
Vanessa sits opposite me in a café in West London. She looks on intently as I explain the concept. Vanessa is in London for only a few days, part of a sojourn during a trip to Paris to visit her boyfriend. Vanessa is Brazilian. She was born and raised in Rio. We met when she was teaching favela kids drama as part of a human rights project.
"Taaa" she nods her head slowly "using mo-bile phones to make filmies"
"Yes" I sum-up "so they can tell their stories and be part of the media."
"Ooo-kaaay" Vanessa elongates most words and punctuates sentences with a giggle "This is a good cown-cept" she arches her eyebrow in an expression that is uncharacteristically serious "people can express how they feel – "
"Yes" I interject "
" – and what's happening in their communidadjes" she adds.
"Exactly" I reply
"And can they make muuney?" She enquires.
I look across the table at her, stumped. "Well… that would be part of it" I falter.
Her pearly-white smile generously unfolds "Making muuney is the hard bit, isn't it?!" and the giggle spills forth.
South Africa was the first place WFC ran a training programme. This was thanks to Gerry Fox, one of our Patrons and a generous donor to the charity.
It was during the programme in Cape Town that I met Simcelile Kalimashe aka. Simi. Simi wanted to be a filmmaker but didn't have the resources to go to film school. In WFC he saw his chance.
After the success of the programme in 2008, WFC returned to Cape Town in 2009. This made a big impression on Simcelile. We'd stuck by our word and come back. This time the programme was documentary shorts and one of the films, a snapshot into the deplorable condition of the transport links from townships into central Cape Town, was accepted into the prestigious Pocket Film Festival in Paris. The film was directed by a remarkable young woman called Nolufefe Myeki.
Thanks to a private donation, we were able to engage Joe Menell and his parter Richard Mills to teach the programme. Joe had directed the defining documentary on Nelson Mandela just after he was released from prison and, more recently, had become a superstar in the townships with his popular show 'Street Talk', broadcast on the community TV channel, CTV. Joe introduced me to Shelley Barry, the then Head of Programming at CTV and one of the most generous people I know. In time, WFC would start making content for CTV.
It was during this visit that WFC started tutor training. This formed part of the methodology developed with Jessica Rose Morgan in London. Jess was a graduate of Prof. Jane Plaistow's Media for Development course at Leeds University and Jane was a Patron of WFC. Combining Jess' academic knowledge with my experience on the ground, we became convinced that the only way to make a lasting impact was to skill-up local filmmakers and drama practitioners. That way, they could run programmes and support graduates by opening up networks in the industry. In their turn, WFC students offered creative opportunities for professional filmmakers by enabling access these otherwise often inaccessible communities. With a background in filmmaking myself, I felt not only privileged to see inside these places but also creativity excited and inspired by what I saw.
Shelly Barry came on the tutor training course in Cape Town, as did students from the documentary shorts programme, along with graduates University of Cape Town's film diploma. Simi came too, and it was during a wrap party at Shelley's place that Simi suggested we take WFC onto the next level. We were sharing a cigarette on her balcony at the time,
WFC can go further in the townships - It could become a movement
"WFC can go further in the townships" Simi announced as we looked across the stuccato houses and out towards the sea "It could become a movement".
This was music to my ears.
"What do you need?" I asked him.
Simi paused, thought, took a drag, exhaled
"I need you to come back and focus on your operations in SA" he replied.
I pondered this. WFC had certainly taken root more firmly in South Africa than it had in Palestine, Brazil or the UK. Already there were mutterings about doing something around the World Cup the following year. I looked across at Simi.
"Look" I began "I'm going to give you R5. If you start making things happen then we take it from there".
Back then I could never have imagined that in less than a year's time we'd have a thirty-five strong team covering the World Cup in Cape Town from the perspective of the townships and the streets.
We followed up the work in Bethlehem, with a documentary shorts programme in 2009. During my visit, Nidal and I also trained local film and drama professionals to become tutors. By this time, Nidal had teamed up with Nida', his best friend from childhood, who would project manage the programmes from then on. It was at this time, Nidal and I met Karma Nabulsi, co-founder of Hoping Foundation and a professor at Oxford University. Karma was visiting one of her projects in Balata Refugee Camp, Nablus.
We arrived at Yafa Cultural Centre just before the shops were about to close. Nablus had been under seige for a number of years and it had been difficult to enter or leave. But the seige had ended, and Nidal was excited to buy kanafeh, an Arabic pudding made of cheese and sweet syrup, and take it back to his family in Bethlehem. Karma and I smoked as we drank coffee from polystyrene cups, and she listened intently while Nidal explained what we were doing and why it was worthwhile. Karma introduced us to Fayaz Arafat who ran Yafa Cultural Centre and he told us about their youth work there. The meeting went well and we agreed to partner. On the way back to Bethlehem, a soldier at the checkpoint asked us what was inside the huge white box that lay across the back seat,
"It's kanafe!" exclaimed Nidal, joyously
The young soldier looked curious
"Can I have some?!" he joked
"Yes! Take!" replied Nidal, proud to be the bearer of the best kanafe in the West Bank
And there followed an awkward moment where nobody quite knew what to do; the sunny camaraderie of fellow human beings becoming quickly overshadowed by politics and power, and the tragic status quo.
WFC ran two programmes in Balata refugee camp, one fictional shorts and the other documentary shorts, both taught by Nidal and project managed by Nida'. During this time, Nida' also began talking to the Head of the British Council in Palestine and the Qattan Foundation about expanding our programmes across the West Bank.
In Rio, we began working in a favela called Morro dos Prazeres, loosely translated as Hill of Pleasure. I'd met Claudia, who ran the drama class, through one of her students, a guy called Shampoo. Shampoo was a musician from Sao Paulo who had moved to Rio to further his career. He'd rented a place in the favela along with other aspiring young Brazilians who were slowly but surely making their way into the middle class. WFC ran two programmes in Morro dos Prazeres. The first was a fictional shorts programme and the second, a documentary shorts.
Back in London, Roxy Holman was searching for a group for us to work with. I'd met Roxy teaching filmmaking to inner-city school kids. We'd both witnessed the positive effects this had on confidence levels and capacity to explore solutions to everyday problems. Roxy wore back eye-liner, had freckles and made things happen. With a bit of research, she discovered Ape-Media, a youth organisation working with kids who were risk of exclusion from school. Ape used filmmaking, drama and music classes to draw young people back into education. Trevor ran Ape-Media and he was super cool. He agreed to partner with WFC on a project in a school in East London. I taught the class with Ngoni from Ape-Media and Shazia Ur-Rahman, who Jess Morgan and I recruited through The Arts Council website.
With a grant from the Government, WFC was able to follow this up with a documentary shorts programme the next term. Given carte blanche to make a film about whatever subject mattered to them, the boys in particular were clear it should be about police stop and search. Stop and search was a constant part of their lives and something that angered them enormously. Two years later, WFC would respond to the youth riots that erupted across Britain by running a programme that looked at their causes. Of the four main causes the students identified, stop and search was the most pronounced.
The group created a brand and a website for the project. Dzola Goldsmith, a young man who had been referred to us by The Prince's Trust (with whom we partnered on the riots projects) came up with the name: What We've Done.
It is always hard to raise funds for a charity. We were lucky. Right at the beginning, my mother, Cate Haste, donated seed money so that we could run our first projects in South Africa, Brazil, Palestine and London. Once we had proven we could do it, Miles Morland, a pioneer investor in Africa, agreed to donate £25,000 to WFC on the condition that we matched it with another £25,000. We did.
Increasingly, we sought ways to move WFC onto a more commercial footing in an attempt to ensure its sustainability. This began in South Africa. Following on from the success of the World Cup project, we were asked by digital entrepreneur, Emma Kaye, to create short, 1min films for a platform she was developing on South Africa's biggest social network, Mxit. The team created the brand – Mopix – and began making short films to populate the platform. The business model was pay-per-download so users would pay a small amount to watch each film. There were also subsidiary products such as wallpaper and screen savers of the team, which in fact turned out to be much more popular than the films themselves. Mobile telephony hadn't advanced far enough by 2010 for the average South African to watch films easily on their phones, and the small cost of each download meant profit would only come if thousands upon thousands of people downloaded the films.
Despite making hardly any money, the series was really fantastic. The Reverend, from whom we rented the church hall in Khayelitsha for the World Cup programme, had agreed to let us continue renting the space at very low cost. This became our production office and, as far as we knew, it was the first and only film production company based in Khayelitsha township. Simi was part of this team, as was Ntombi, Akhona, Pelisa, Mendile, Spokazi, Bora and Manez.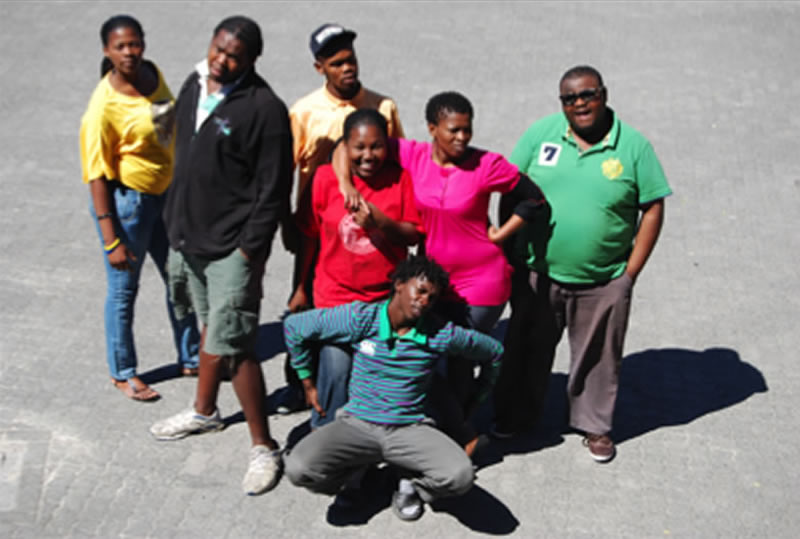 From time to time, funding opportunites took us in directions we hadn't anticipated. This was the case with the programme we ran in Russia, which was commissioned by Russian Century, the foundation of Russian philanthropists, Marina Goncharenko and her husband. The foundation was already supporting an orphanage in Kaluga, just south of Moscow, and Marina suggested we run a programme there. Lucie Capel, a fluent Russian speaker and an old friend of mine from The National Youth Theatre, went over to run a fictional shorts programme with the kids. She recruited a Moscow-based filmmaker, Geddadii Fadeev, to help her and the children made a short film called 'Fishing'.
Back in South Africa, the Cape Film Commission had agreed to fund a training programme to upskill grassroots filmmakers. The result was a series called 'Do You Want To Know Me?' or 'Uyafun'undazi' in Xhosa. Each 12min episode took a common statistic relating to the townships and profiled a person living in those circumstances. The results were incredible.
WFC hoped to sell the series to a South African national broadcaster, but there was no uptake. Megan Crampton ran the programme. She and I met in Jo'burg when she was working as a freelance producer, director and editor. If anyone was going to be able to sell this series, it was Megan. But it didn't sell. However, the story of a young woman featured in one episode, who had been orphaned by AIDS and had won the Miss Khaylitsha beauty contest, captured the imagnation of Glamour magazine and they wrote an article about her. This was the first feature about a women from the townships ever printed in the magazine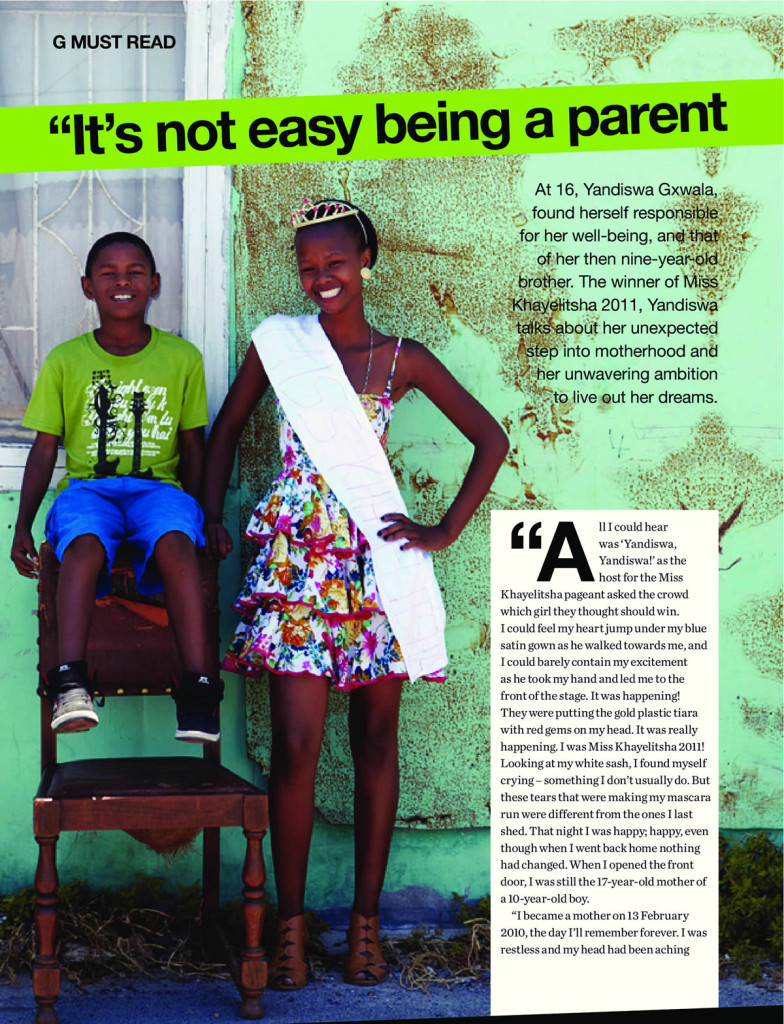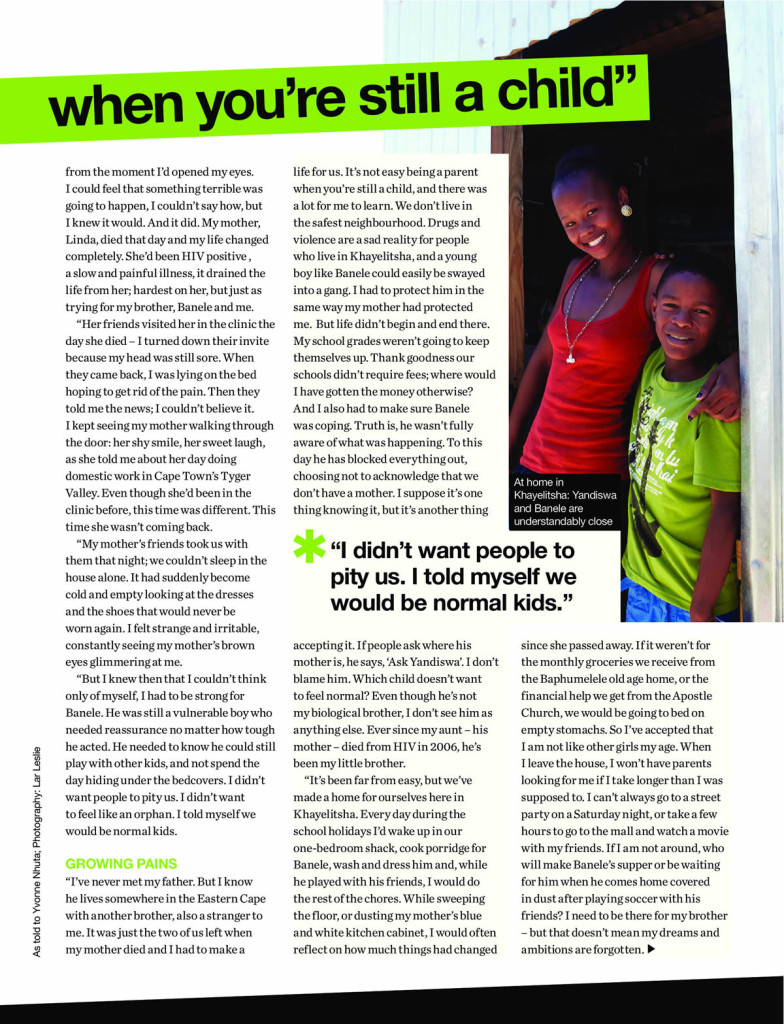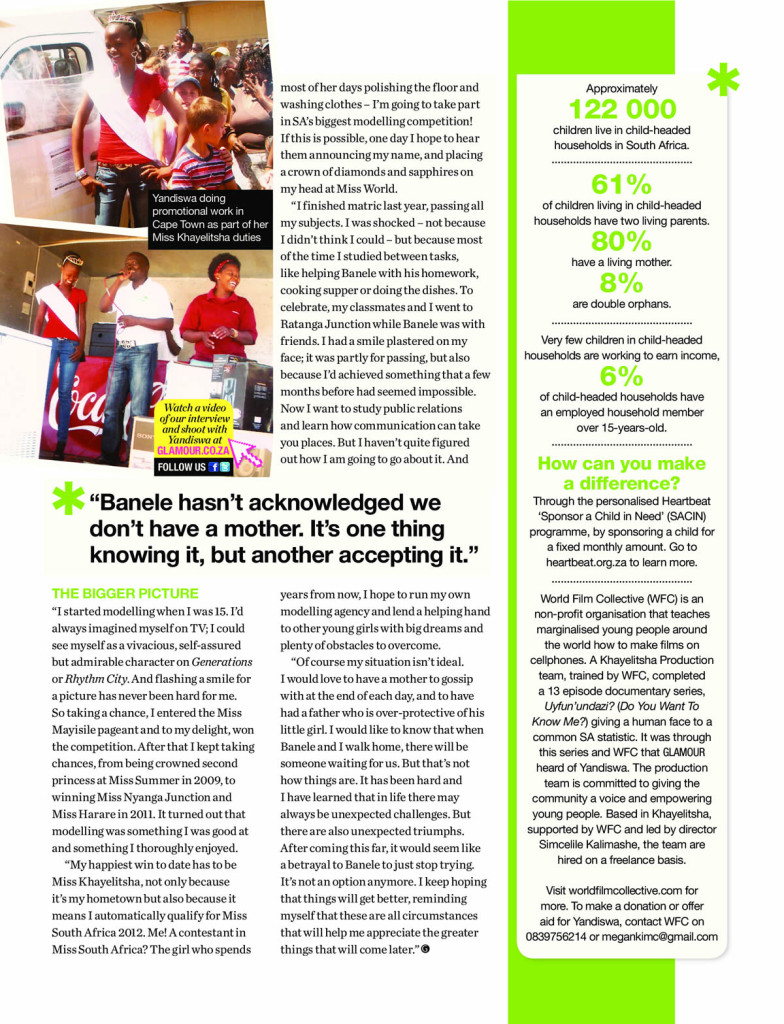 It was in 2012, while WFC was running Part II of What We've Done, our project analysing the causes of the youth riots in Britain that I began talking to The UK Premier League about a possible project. The proposed programme would be run in partnership with Grassroots Soccer, a brilliant organisation that uses football to teach HIV prevention messages to young people in marginalised parts of the world. The synergy was palpable. We agreed to merge. I put together a three-month training package that merged Grassroot Soccer's curriculum with WFC's and enabled participants to start developing their own campaign.
It's hard to convey the feeling of achievement when grassroots filmmakers who have gone through your programme begin shining a fresh light on enduring issues. Their youthful honesty combined with responses they received from people within the community – who are not on guard and instead wish to help – is electrifying. As an outsider, I learned so many things about HIV from this programme. To see clearly into the emotions, percpetions and culture of a community struggling hard to cope with an ongoing pandemic, one that debilitates their family members, orphans their friends and neighbours, and yet remains a taboo, is an insight of monumental proportions.
I was pleased to discover that this kind of youth engagement is being taken seriously as a field of research in academic institutions such as Harvard University. Helen Haste, a Professor in the Education Department at Harvard has been a long-term supporter of WFC and explains here how our works fits into the bigger picture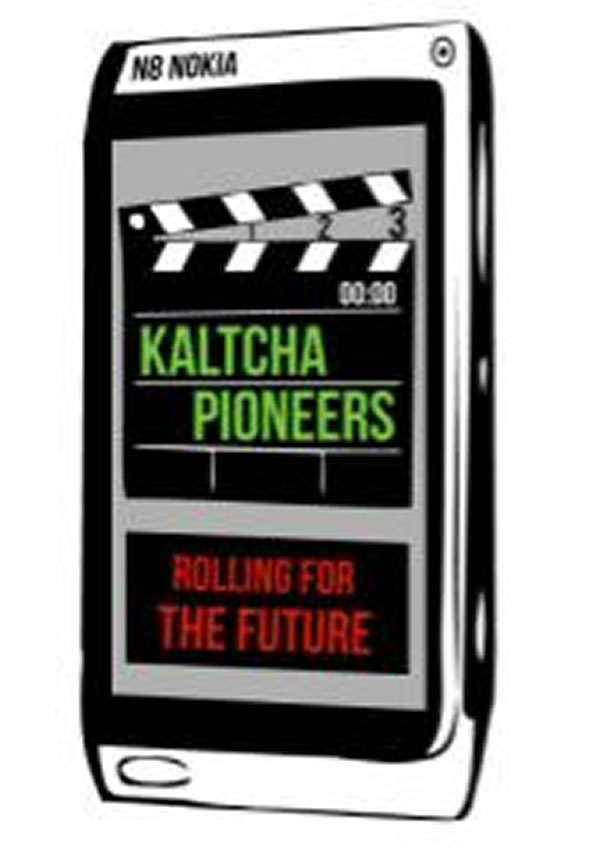 The original 18 students on the programme with Grassroots Soccer created a brand called Kaltcha Pioneers (a play on Khayelitsha) and gave themselves the tag-line, 'Rolling for the Future'. Under this brand they grabbed the formats taught as part of the curriculum and ran with them. The results was some absolutely wonderful films.
By this time, Cape Town TV heard about what we were doing and asked if they could broadcast a series of the Kaltcha Pioneers' films running up to World AIDS Day. I contacted Tom Messett at Nokia and he agreed to sponsor the series. A select few from the orignal group were then chosen to produce the series under the same brand, Kaltcha Pioneers. Buiding on the formats that had been developed and taking them further, the team delivered a slate of short films for CTV. By this point, the campaign message was becoming clearer. Get Tested! Know Your Status!
Mxit had also got wind of the Kaltcha Pioneers campaign and they offered a platform on their mobile phone social network to screen the films. The Kaltcha Pioneers were not about the miss this opportunity, and they ran a campaign up to Valentine's Day with the message, LOVE YOUR PARTNER. KNOW YOUR STATUS. The response was greater than anyone could have imagined. Along with in depth and open conversations on Facebook in response to questions such as, 'Why do people hide their HIV status from their partners?' and 'What do you expect from a relationship' (many of that answers to which have subsequently been deleted by Facebook…!), the Mxit platform seemed to give people a space to be open about their own experience of living with HIV. In response, the team linked up with an online HIV support group to which they referred those asking for help. It was an astonishing mobilisation, driven by people from within the community, for people in the community. We hoped a larger HIV-awareness organisation would pick the campaign up and take it to the next level. Sadly, none did.
Our big break in South Africa came a year later when Monde Twala, Head of Programming for eTV (a commercial TV channel in South Africa) agreed to commission a series of short vignettes for their new channel eKasi +
These 5min films showed the townships in a completely new light, profiling all the exciting things that were happening in the communities: from the latest bands, art festivals, fashion entrepreneurs and independent businesses to snack kiosks, township bikers and VIPs in nightclubs. Transforming the way people viewed marginalised communities through the production and broadcast of media made by people living and working inside these communities was the goal WFC had been trying to reach from the outset. With this series, we had achieved it.
In Rio, Vanessa was putting together a programme to cover the 2014 World Cup from the perspective of the favelas and the streets.
Tutors were recruited from sessions we had run back in 2009 with Cinema Nosso, a film school for favela kids established by director Fernando Meireilles after the release of his award-winning feature film, City Of God. In a poetic cycle of fortunes, we actually partnered with the youth group in City of God favela to do this.
Back in London, awareness of the refugee crisis was mounting as more and more people visited The Jungle camp in Calais and used social media to report back on what they saw. After some thought, we decided to run a programme in The Jungle, enabling people living inside the camp to report on what was happening from their perspective. We called this project CalaisSPEAKS and ran it over a week in September 2015. The majority of participants were Syrian and the films gave insights into all sort of aspects of the camp, from service provison to security to community.
This programme is one we hope can be replicated again in Calais and also in Grande-Synthe camp in Dunkirk, as well as with refugee communities in other parts of Europe as the crisis intensifies.
Our donors have been incredibly generous over the years but unfortunately WFC was never able to successfully commercialise its work. With the launch of our online education resource and film archive, we are hoping that filmmakers, project managers, youth workers, academics and anyone interested in becoming a grassroots filmmaker themselves will take up a mobile phone and use it to tell stories. At the core of WFC is the belief that human beings understand the world, themselves and each other through stories. The power to tell a story is the power to influence another person's outlook. By creating common stories we can connect with people we do not know and may never meet. WFC is all about creating meaningful connections between human beings and the more stories the better. Be part of the story!